The Kraken Hoop House
September to October 2013 | Second-Year Studio I, Fall 2013 Semester
Weatherproofed birch plywood, pressure-treated pine, plastic sheeting, and galvanized steel hardware
In collaboration with Brian Bollens, Aileena Gray, Candace Ju, Cy Kim, and Sabah Amber Qasir | Advised by Mick McNutt, AIA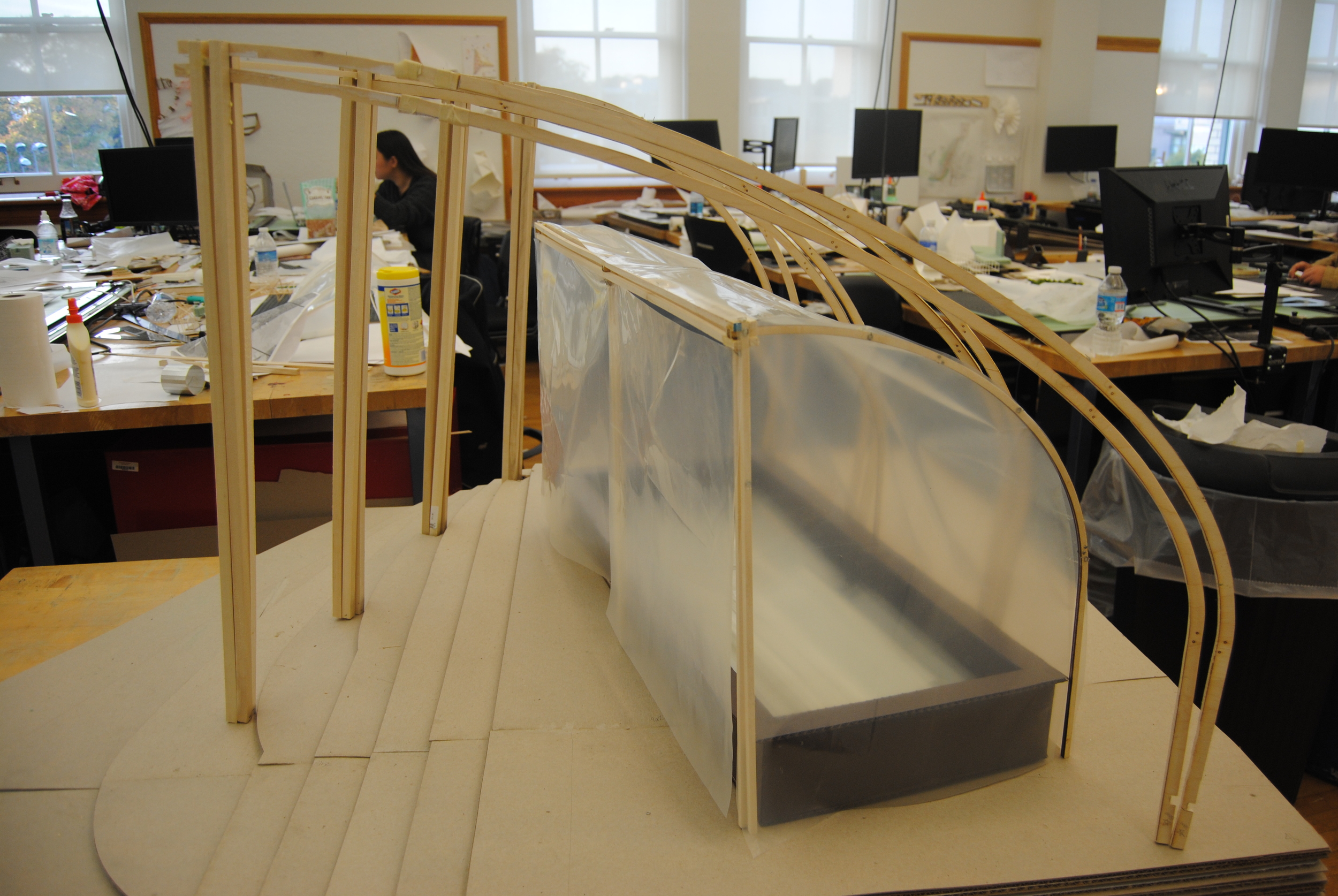 For this project we were tasked with designing and building a hoop house - a small greenhouse - for a raised bed and its attendant gardeners at the Octopus Community Garden in Pittsburgh's Friendship neighborhood.
My partners and I strove to create a structure that not only sheltered the plants, but also provided a workspace and gathering point for the gardeners. This is achieved with the double-structure: the inner frame encloses the plants, and the outer frame defines a pathway through the garden and becomes a scaffold where gardeners can place their tools.
We chose wood as our primary material in keeping with the naturalistic setting and existing wooden elements found in the garden. The lightness and articulation of the joints and wooden members were inspired by Japanese carpentry. Though this lightness suggests a desire to transcend the earth - the plants grow towards the sun and the sky - the hoop house is also firmly grounded to the site. Its columns navigate the slope of the site and its ribs curve upward from the land.
The complex joinery was developed through a series of full-scale prototypes, and was ultimately achieved with the use of galvanized steel hardware: mostly nut-and-bolt connections. The large, curving ribs of both the outer and inner frames were cut out of birch plywood on a CNC router in small sections which were then bolted together to achieve the full arc lengths. The ribs of the outer frame were reinforced against lateral loads by connecting them at their relative midpoints with simple steel bars.
Once the hoop house was completed on site, my partners and I dubbed it "The Kraken," as it was the latest sea creature to join the Octopus Garden's menagerie.